Download PDF Format
Asset Tracker Advantages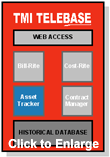 Asset Tracker is a database containing all of an organization's telecommunications assets contained in their bills from Telecom Suppliers.
All assets are given a classification and then assigned to employees, departments, locations and given installation termination dates.
Asset Tracker provides clients with a comprehensive view of all their telecommunication asset information.
Track All of Your Telecom Assets
Asset Tracker gives you the ability to track all telecommunications assets across your entire organization regardless of location or service provider.
TMI has developed electronic tools to assist clients in auditing their telecommunications assets and inputting the required information into the Asset Tracker database.
Asset Tracker gives clients the ability to easily maintain an up-to-date inventory of their assets, and reporting tools to analyze asset criteria such as: active or inactive, class, in service, owner, and location.
What are the Benefits?
An up-to-date inventory of all telecommunications assets across your entire organization.
Improved control of the telecommunication infrastructure by linking all assets to their hierarchical data.
Savings in time and money by knowing which assets are in service and billable.
Electronic tools to easily move departments and re-assign assets to keep your information current.