Download PDF Format
Bill-Rite Advantages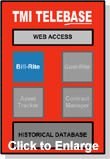 Bill-Rite loads electronic bills (e-Bills) from all major Telecom suppliers.
Bill-Rite processes an e-Bill by comparing each billing record against the asset and contract information contained in TMI Telebase.
Once the processing is complete Bill-Rite provides validation reports detailing all billing errors contained in the e-Bill.
Validate Every Bill – Every Item
This application makes TMI unique in the Canadian marketplace because we are the only company in Canada who validate every line on your supplier's e-bill.
Validation reports detailing all billing errors are available to the client as soon as the processing is complete.
Bill-Rite also assists clients in their cost allocation process by identifying the correct amount to be posted to their financial system, along with the associated recoverable or payable amount as a result of the billing error.
What are the Benefits?
Industry experts indicate potential 5 -15% savings to your bottom line as a result of billing errors.
Insure you're paying correct rates and only paying for assets you're really using.
Savings in time and money by discovering billing errors early before they accrue to large amounts.
Ability to allocate the correct amounts to cost centres when billing errors occur.