Download PDF Format
Client Managed Service Advantages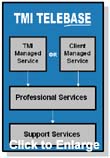 TMI offers Client Managed Service to customers who wish to purchase and install TMI Telebase at their premises using their network hardware, practices, and company policies.
Client Managed Service is specifically designed for customers who have the internal resources, expertise and the network capability, to install and maintain the TMI Telebase suite of software products.
TMI Telebase gives clients the ability to eliminate Supplier billing errors, reduce operating costs, and save time and money through process improvement. Clients can easily audit their telecom assets, allocate telecom expenses, analyze their ROI, and present billing expense reports to all management and staff through secure Web access.
TMI provides the "Roadmap to Success" which is a turnkey solution for clients who don't have the time or resources to collect the required data for TMI Telebase. Let TMI's trained professionals work with your staff to insure a quick and easy installation allowing you to take control and start accruing your savings as soon as possible.
What are the Benefits?
Control over the day-to-day operation of TMI Telebase.
Industry experts indicate potential 5 -15% savings to your bottom line as a result of billing errors.
Manage all aspects of your Telecom expenses.