Download PDF Format
Contract Manager Advantages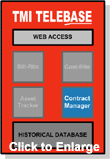 Contract Manager is a database that contains all of a clients telecommunications contracts including the contract name, supplier information, and the start and end dates of all contracts.
The software separates each contract into its rate and rent components in order to track all billing aspects.
Contract Manager contains historical, current, and future contracts.
Centralized Contract Management
Contract Manager allows you to manage all of your telecommunications contract information from a central database.
TMI have developed electronic tools to assist clients in moving batches of information quickly and efficiently for any moves, additions, or changes.
With the aid of a powerful and flexible reporting tool clients can quickly determine contract expiry dates, assets associated with a contract, or specific rate and rent data contained in a contract. TMI Telebase uses the contract data to validate a suppliers e-Bill to insure that the client is paying the correct rates.
What are the Benefits?
Insure you are paying the correct contract rate and that discounts are being applied correctly.
Improved Telecom supplier management.
Proactively analyze and develop strategies for contract renewals.
Using specific contract information to leverage better terms when negotiating new contracts.