Download PDF Format
Cost-Rite Advantages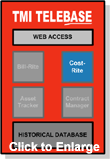 Cost-Rite is the gateway into a client's current and historical telecommunications billing database.
This module provides an extensive array of reports and a flexible reporting tool which allows clients to quickly analyze and audit their billing information.
Telecom expense reports are available via the Web providing self serve reporting with drill down capability for managers and end users.
Quick Web Access to Telecom Expenses
Cost-Rite offers significant productivity gains to companies who currently use manual processes to organize and distribute telecom expense information to managers.
Our software provides clients with secure Web access to all their current and historical billing expenses.
The comprehensive, easy to use reporting tool allows clients to simply double click to drill down to more detailed information as required. All reports are saved as PDF files to insure their integrity.
What are the Benefits?
Save time and money by eliminating a manual telecom expense approval process.
Identify opportunities for supplier consolidation by analyzing spending and usage trends.
Quickly identify spending anomalies by analyzing current telecom spending by business unit.
Improve technology management by comparing asset utilization to service expenditures.