Download PDF Format
TMI Managed Service Advantages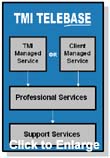 TMI Managed Service is specifically designed for customers who wish to take advantage of the benefits offered by TMI Telebase without all the associated operating costs of managing it themselves.
TMI will host the client data and provide a fully managed service that will eliminate supplier billing errors, improve telecom expense management, decrease operating costs, and provide an ongoing ROI.
All expense reporting will be made available to managers and employees via the Web, based on pre-authorized viewing rights assigned by the TMI system administrator in accordance with the client.
TMI's trained professionals use a process called the "Roadmap to Success" to insure a quick and trouble free installation, allowing you to take control and start accruing your savings as soon as possible.
What are the Benefits?
Control over the day-to-day operation of TMI Telebase.
Industry experts indicate potential 5 -15% savings to your bottom line as a result of billing errors.
Manage all aspects of your Telecom expenses.