Download PDF Format
TMI Telebase Overview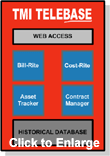 TMI Telebase is a web-enabled suite of four integrated application modules. Its key functions are to electronically consolidate, manage, validate, and report all telecom expenses across an organization. The application modules are as follows:
Control Your Telecom Expense Management
TMI Telebase eliminates supplier billing errors, enhances telecom management, and reduces operating costs for our clients.
What are the Benefits?
Potential ROI in first year of operation: Industry experts indicate potential 5 -15% savings to your bottom line as a result of billing errors.
Consolidate all telecom expenses across your organization.
Improve your company's ability to analyze, budget, and plan telecom spending by having accurate Telecom Asset and Contract information.
Enhance Business performance with faster invoice auditing, processing cycles, and error detection and resolution.