Download PDF Format
TMI Professional Services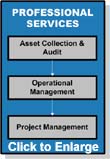 TMI's Professional Services compliment our TMI Telebase suite of software products. Our "Roadmap to Success" is a project plan detailing the successful implementation of TMI Telebase. Our professional services team ensures every conceivable step in the plan is covered.
Asset Collection and Audit
TMI's telecommunications asset specialists will conduct an audit of your telecommunications assets and associated contracts.
TMI's professionals will build a detailed and accurate database of all your telecommunications assets and related contract information.
Operational Management
A TMI Telecommunications Operational Management specialist works with your team to ensure that the TMI Telebase software suite is successfully integrated into your operations.
Our professionals have extensive experience with both the software and local and wide area network architecture.
Project Management
The TMI Telebase Project Management Service is available to clients who require external expertise to direct and manage all facets of the implementation of the TMI Telebase suite of products into their organization.
What are the Benefits?
Seamless integration of Telebase into your organization.
Minimize your resource requirements by allowing TMI to provide a turnkey solution.
A wide range of services to help your company take control of telecom management.